LEADERSHIP Foundations Ages 13-15 | LEADERSHIP Development Ages 14-16
Participants work together to create their own community in order to foster and encourage leadership skill development and personal growth through workshops and discussions.
Summer 2023 Camp Registration will open Mon Feb 13/23 @ 6:30am. Summer 2023 details will be viewable below shortly.
Once registration is open, if your desired Camp week is full, please join the waitlist and we will contact you if and when an opening is available.
Communication and Collaboration
Develop the skills to become a great leader through communication & collaboration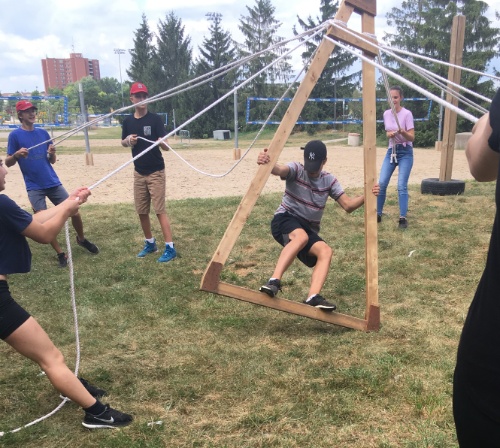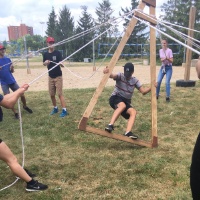 Communication and Collaboratio...
Develop the skills to become a great leader through communication & collaboration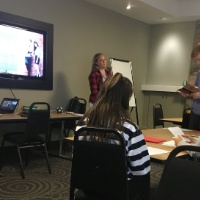 Specialty Workshops
Guest speakers facilitate workshops on several topics such as providing insight on how bank accounts work in order to become financially responsible as a leader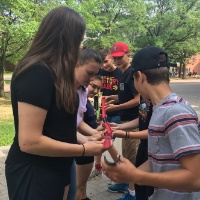 Teamwork and Initiatives
Interactive initiatives geared towards a particular leadership or team attribute will lead into focused workshop discussions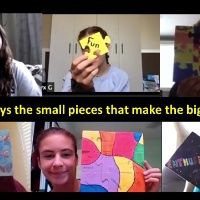 Group Reflections
Gain insight into group dynamics through reflection and debrief activities that create the opportunity for participants to share in a respectful environment
Skill Sharing
Interactive teambuilding activities create a supportive environment for each leader to share their insights and unique skills. Through these exercises, participants will see how their strengths can help others in their personal growth.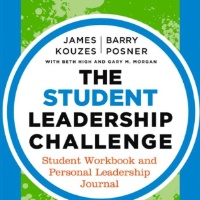 Resources
Leadership Programs utilize many different types of resources and understand the importance of being flexible as a leader by facilitating in different ways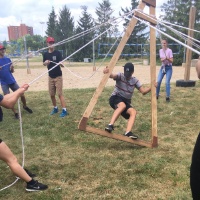 Communication and Collaboratio...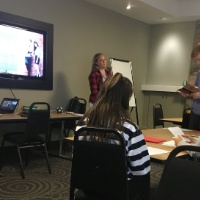 Specialty Workshops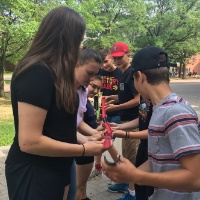 Teamwork and Initiatives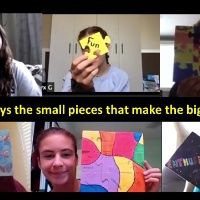 Group Reflections
Skill Sharing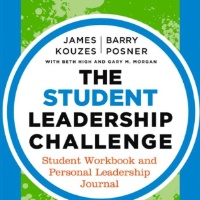 Resources
An Opportunity to Grow from two different Leadership Programs
Our Leadership Development Program is built on developing a community and the "I AM A GRYPHON" values (be respectful, caring, determined, engaged and authentic). Throughout the program participants are working together in creating their own community to foster and encourage leadership skill development and personal growth through workshops and discussions facilitated by our Gryphon Program Team and Program Directors.
We have designed workshops and activities that are engaging to encourage participants to communicate and collaborate with each other while actively moving and laughing together. Workshops will include topics like self-motivation, working in teams, personal leadership traits, how to lead a group, time management, work opportunities (job search, resumes, interviews), how to be fiscally responsible, public speaking, how to make your voice heard and conflict resolution. Our Leadership staff will present volunteer opportunities and help participants find hours to support their high school volunteer program. Note: The leadership programs have separate concepts and activities. They are designed for the age group that will be participating in the program.
Leadership Foundations | 1-week program | Ages 13-15
The program is focused on teamwork and experiential learning through interactive initiatives. Campers will gain an insight into group dynamics and working together with other individuals to problem solve and work in an environment that is respectful of idea sharing. The goal for campers is for individuals to be better prepared for group work at school and how to work with others in a variety of different environments. It will be an engaging week of initiatives and debrief/reflections. We can't wait to see these individuals taking the first step on the path to being a community leader.
Leadership Development Program | 2-two-week program | Ages 14-16
This summer we are extremely excited to be basing many of our workshops and reflections from The Student Leadership Challenge: Five Practices for Becoming an Exemplary Leader by James Kouzes and Barry Posner. During the two weeks, participants will explore through interactive workshops and experiential activities how to Model The Way, Inspire a Shared Vision, Challenge the Process, Enable Others to Act, and Encourage the Heart. During the last week of camp, participants will have the option to sign up for volunteer hours to assist with Summer Camp Wrap up.
Guelph Gryphons Athletics Centre
50 East Ring Road, Guelph, ON, N1G 4Z8