Gryphon Sport Camps offer a focused approach to sport-specific skill development led by Gryphon Coaches and varsity athletes, designed to teach and facilitate growth that is age and skill level appropriate. Each Sport Camp has their own focus and requirements for skill ability and equipment requirements (Sport Camp weeks limited due to availability of facilities/coaching staff). For those looking to continue developing high-level skills in a particular sport, our Skills Clinics will provide that opportunity as University of Guelph Coaches facilitate these Clinics (limited sports offered).
Summer Camp Registration will open Feb 12, 2024! Can't wait to see you next Summer!
If you're new to Gryphon Camps, check out last Summers Camp Calendar to get a general idea of similar programming we may offer. Summer 2023 Camps Calendar at a Glance
Sport Clinics details are posted regularly as sessions become available throughout the year. Click here for Youth Skills Clinics details.
If your desired Camp week is full, please join the waitlist and we will contact you if and when an opening is available.
Gryphon Sport Camps
Focused, high-level skill development approach.
See below for full list of Sports Camps offered this summer.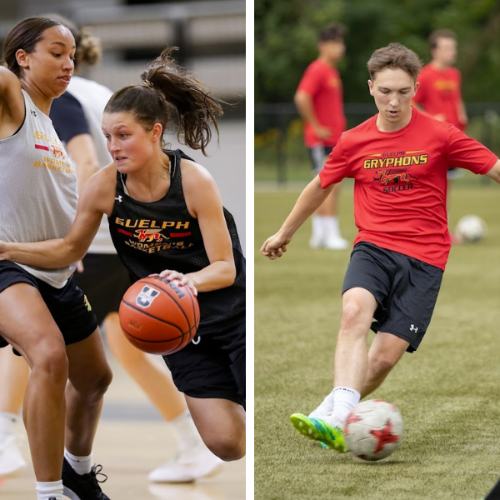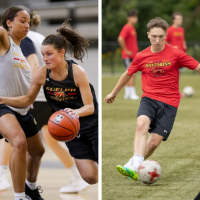 Gryphon Sport Camps
Focused, high-level skill development approach.
See below for full list of Sports Camps offered this summer.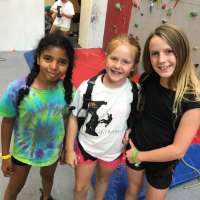 She's Got Game
By combining the best elements of a sport camp with a leadership program, individuals ages 12-15 that identify as female will engage in sport activities and small group discussions to build self-confidence and leadership skills within an inclusive & positive environment.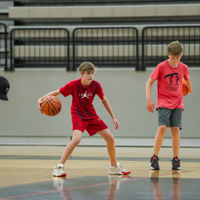 Basketball
Campers will be divided into two streams; Recreational Stream | Ages 7-9 and Instructional Stream | Ages 10-13. No previous experience required.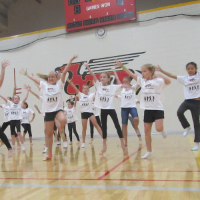 Discover Dance
Dancers will be introduced to a variety of dance forms such as hip-hop, ballet, contemporary, salsa and jazz through daily technique & choreography workshops.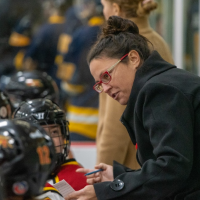 Girls Hockey
This Half Day Camp is designed for individuals that identify as female.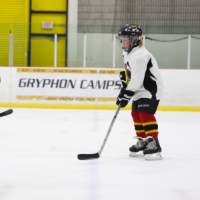 Hockey
Hockey Skills Camp is a 50-minute on-ice program designed for those looking to improve their overall game while maximizing fun on the ice. Hockey Skills Half Day Camp includes both on-ice and off-ice components designed for those players looking for a full workout including dry land fitness.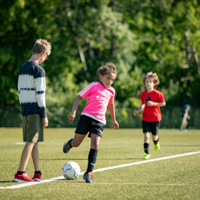 Soccer
2 Streams: Recreation Ages 7-9 & 10-13 is designed for House League players with focus on basic skills & technical development. Elite Ages U11-U13 is designed for players competing in rep environments looking to improve communication, decision & execution of their soccer actions.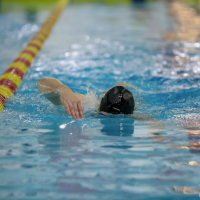 Pre Season Swim
Competitive swimmers ages 13-18 will improve their technique in all four Olympic strokes, as well as, the fundamental skills of starts, turns, streamlines, and relay takeovers.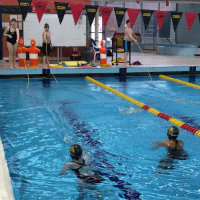 Aquatic Fitness
Age 10-14 swimmers will get the chance to experience it all: Competitive Swimming, Artistic Swimming, Waterpolo, Lifesaving and even Aquafit in this half day camp.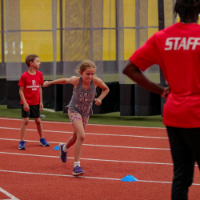 Track & Field
Ages 9-13 will develop skills through an exciting mix of technical practice, games and special events; moving from general to more specific.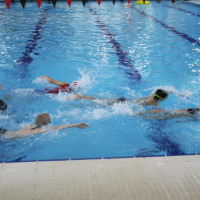 Triathlon
Designed for Ages 11-15 looking to improve technique in cycling, running & swimming skills through team relays, challenges & fun dryland activities.
Youth Fitness
Designed for ages 10-14, campers will explore the University of Guelph Gryphons Athletics Centre's wide variety of fitness facilities & activities with hands on experience.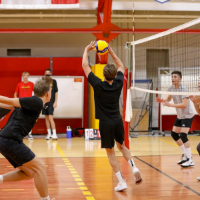 Volleyball
Designed for Ages 11-14 who are newer to the sport looking to develop individual volleyball techniques (setting, passing, serving, defense, etc). Players will be divided into groups of similar ability to ensure skills & techniques are taught at an appropriate level.
High Performance Training
This half day training camp for ages 13-19 is hosted by the University of Guelph Varsity Strength & Conditioning Coaches and staff. This comprehensive program will cover the basics of strength & conditioning, including a movement assessment.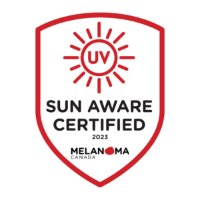 Sun Safety
Gryphon Camps is committed to sun safety! Camp staff are Sun Certified through the SUN AWARE Certification Program to ensure best practices in sun safety and create sun safe policies and guidelines.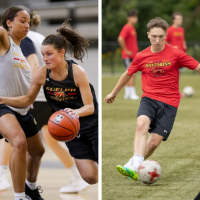 Gryphon Sport Camps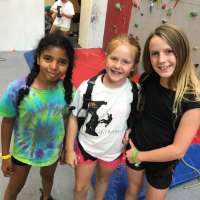 She's Got Game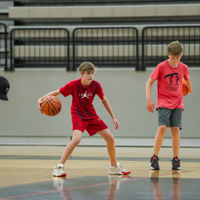 Basketball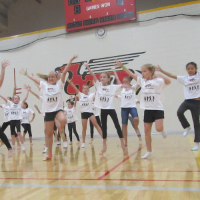 Discover Dance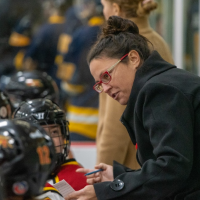 Girls Hockey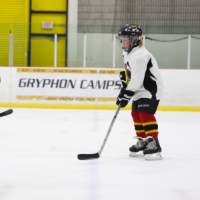 Hockey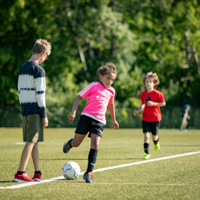 Soccer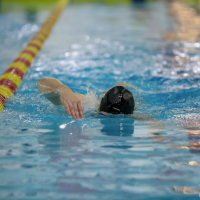 Pre Season Swim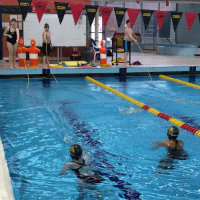 Aquatic Fitness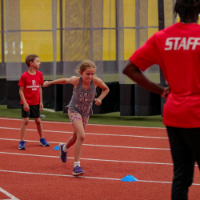 Track & Field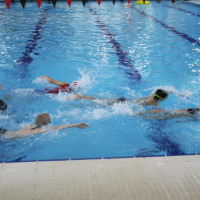 Triathlon
Youth Fitness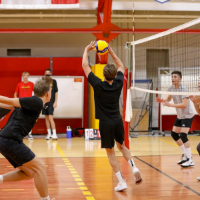 Volleyball
High Performance Training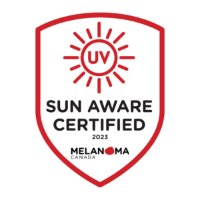 Sun Safety
Select your desired camp from below list for full details & to register starting Mon Feb 13/23
Summer 2023 Sport Camps
Meet the Gryphon Sport Camps Leadership Team
The Gryphon Summer Camp senior staff team provides leadership and guidance to all of our sport camp coaches and staff, programs, and campers. This team is comprised of the Active Kids Coordinator and the Sport Camps Director who are passionate about Gryphon Camps and care deeply in providing exceptional, skill-based, safe and personal growth camp programs.
If you have any questions about any of our programs or Gryphon Camps (Sport or Activity), please feel free to email us directly at camps@uoguelph.ca and we will gladly assist you.
Kevin Lindner

Active Kids Coordinator

Kevin has worked in the camp environment for over 30 years within varying camp employment sectors including not-for-profit organizations, agency operations, day camps, overnight camps, and municipal recreation. He held previous positions as counsellor, head integration leader, teambuilding specialist, assistant director, director, and program manager. Kevin became the Active Kids Coordinator at Gryphon Camps in 2017.

Kevin is a Recreation and Leisure Studies, with a Business Option, Graduate from the University of Waterloo and recently completed his Master's degree in Recreation and Lesiure Studies from the University of Waterloo. He is an active member and volunteer of the Ontario Camps Association, and currently sits on the Diversity, Equity, and Inclusivity Committee, the Annual Conference Committee and the Ongoing Member Education Committee within the association. Kevin is also a camp consultant and volunteer with the organization Outside Looking In, which is a program for Indigenous Youth across Canada.

Kevin has a deep imagination and passion for purposeful programming in order to create a supportive and inclusive camp community, one everyone is proud to be part of and every child grows individually while attending camp.

Mike Girling

Sport Camps Director

Before joining the University of Guelph, Mike Girling was with Guelph Nighthawks Professional Basketball team for 4 years as an assistant coach as well as the Director of Basketball Operations.

Mike was the lead assistant coach for a season with both the KW Titans Professional Basketball team in the NBL-C and the University of Waterloo Warriors Men's Basketball Program.

Mike joins the University of Guelph as the Lead assistant coach for the Women's Basketball program.