Summer 2021 Group Outdoor Training sessions just added! See details below & register now.
---
Fall 2021 Registration will open September 3rd @ 7am. Prior to this date view details below.
Prior to registration opening, you can utilize our "Wish List" option to save time on registration day. Not sure how "Wish List" works? Click here for FAQ's details.
UPDATES 
University of Guelph
COVID-19 Novel Coronavirus closures, cancellations or other notices, visit
uoguelph.ca
.
Personal Training Sessions are a great way to get one-on-one training, click for Personal Training options.
Outdoor Group Training (Session 2) M/W 7am
Get fit, feel strong and move better. Join us in our Outdoor Training Area located at the Main Baseball Diamond for a group workout run by our team of talented personal trainers. This inclusive environment will provide a variety of exercise options in order to ensure we accommodate all fitness levels. Please ensure you read your Receipt/Confirmation details with regards to Outdoor Fitness Policies including inclement weather. These sessions are open to everyone 16 years of age or older.
Activity Details
27518 - July 19, 2021 to August 16, 2021
Monday(s) from 7:00AM to 7:50AM
Wednesday(s) from 7:00AM to 7:50AM

Excluded Date(s)

Fee: $60
Running Clinic
This 6-week running clinic will take you through all the key running workouts needed to make you a faster runner, including base, tempo, hill and interval run workouts. Whether you're new to running or already an experienced runner, the workouts are designed to leave no runner behind, while challenging even the fastest runner. The program will also cover optimal running form, key warm-up and cool-down exercises as well as include complimentary exercises that can help increase core strength and power, both important for preventing injury and for improving running speed. Attendance mandatory for 1st class.
Activity Details
26386 - September 27, 2021 to November 8, 2021
Monday(s) from 6:30PM to 7:30PM
Thursday(s) from 6:30PM to 7:30PM

Excluded Date(s)

Fee: $90
Outdoor Group Training Sessions
Outdoor Group Training Sessions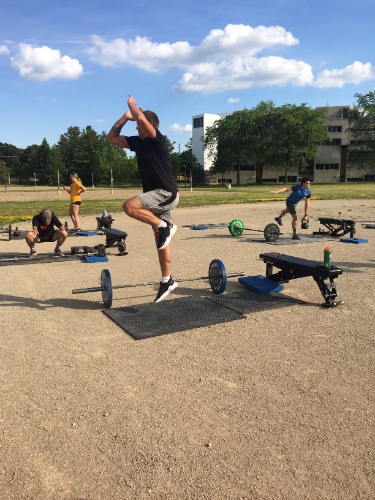 What Participants Have Said...
Be the first to tell us about your experience.