Disc Golf
All visitors over the age of 12 must be vaccinated against COVID-19 to access the University of Guelph campus. Visitors should attest to their vaccination status through the U of G's COVID-19 Daily Screening Tool. Visitors with a medical exemption must have a negative antigen test result from within the last 72 hours before coming to our spaces. Gryphon Athletics Centre Screening & Vaccination Policies > gryphons.ca/covid19
Disc Golf
The course is located in the beautiful University of Guelph Arboretum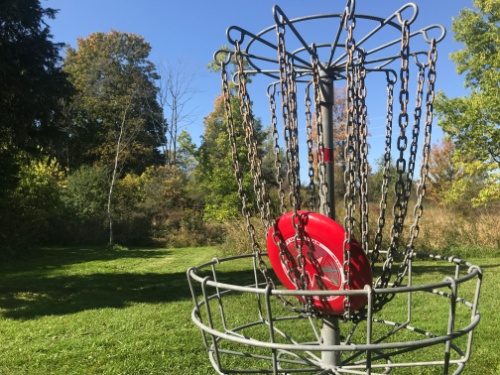 The 9 Hole Disc Golf course is a public use course located in the Maple Collection in the Arboretum, across from the R.J Hilton Centre off of College Avenue.
Disc Golf Protocols
Everyone is required to complete the U of G COVID-19 Screening Form prior to every visit using the QR code or by visiting > uoguel.ph/COVID19screening or access to the facility will be denied
If you experience any symptoms on the screening form or do not feel well, please stay home
During play you must keep a physical distance of 6 feet
Bring hand sanitizer with you
Maximum 4 players per group
Do not approach the tee until it is clear of others
Do not touch the equipment of others
Only one disc in the basket at a time
Retrieve disc out of basket only touching your disc
Any trash carried in must be carried out
No congregating in the parking lot before or after play
Do not damage any plants, trees, or equipment
Everyone must obey physical distancing guidelines
Face masks must be worn while in the facility.
Bandanas and scarves are not acceptable face coverings.
Equipment Rental
Disc Golf sets available to rent at Client Services in the Athletics Centre for a cost

All rental equipment must be returned 30 minutes prior to the building closure
Lost/damaged equipment fees applicable
You are an Athletics Member if you are a registered full or part-time undergraduate or a full-time graduate student of the University of Guelph (Athletics Base Membership paid within your academic fees) or have purchased an Athletics Base Membership.
Please forward any comments or suggestions to Client Services 519-824-4120 ext. 56253.