Table Tennis
Table Tennis takes place in Studio Room 3202 in the Guelph Gryphons Athletic Centre.
Not currently available.
Table Tennis
Table Tennis takes place in Studio Room 3202 in the Guelph Gryphons Athletic Centre.
Not currently available.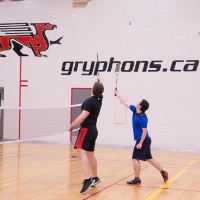 Badminton
Badminton takes place is the West Gym, located in the Guelph Gryphons Athletic Centre.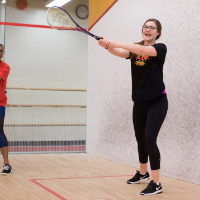 Squash
Table Tennis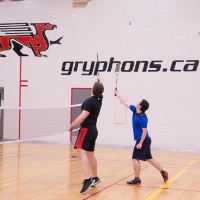 Badminton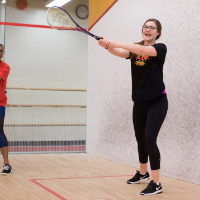 Squash
Racquet sports provide a fun experience for individuals of all abilities.
All Visitors must be prepared with the following, every time they access our facilities:
U of G's COVID-19 Screening Form
Enhanced vaccine certificate with QR code (digital or printed)
Please view Screening/Vaccination requirements full details here
Badminton Protocols
Pre-Booking/Reserving your time slot is NO LONGER REQUIRED (other than for Squash Courts & Rec Swims)
If you experience any symptoms on the screening form or do not feel well, please stay home
Recreation Members will enter through the Larry Pearson entrance
Everyone must check-in at Client Services (or with Rink Attendant/Field House Info Desk) upon arrival
Everyone must obey physical distancing guidelines while in the facility
Face masks must be worn while in the facility.
Bandanas and scarves are not acceptable face coverings.
Face masks may only be removed during physical activity, but must be worn by players on the bench
Four players maximum per net at a time
Racquet Rentals available at Client Services for a fee
Squash Safety Glasses are strongly recommended & available at Client Services
Clean Athletic Footwear required
Squash Protocols
We have 5 squash courts available for use
Squash courts are located on the North and South ends of the West Gym
Racquet Rentals available at Client Services for a fee
Squash safety glasses are strongly recommended and are available at no charge from Client Services.
Clean athletic footwear is required.
All Squash Courts must be reserved in advance.
Bookings can only be made for yourself. Booking for others is NOT Permitted.
Bookings available to reserve 7 days in advance, on the hour.
Time slots will be available to reserve up until 1 hour before the desired start time.
Individuals may book a maximum of 3 slots for the week.
Individuals may only book 1 court per day.
Clients should cancel reservations on their own and can do so without penalty up to 1 hour before the booked time.
If you are more than 10 minutes late for a reserved court, you will forfeit your reservation.
Reservations can be managed through the app, your email confirmation or by calling Client Services (519 824 4120 Ext. 56253).
Non-members will be denied access to reserved time slots.
All Clients must check in when they arrive prior to any booking.
Clients who register for a time and continuously do not show will have their memberships temporarily suspended.
Reserve your Squash Court here
Pickleball - currently not available
Four players maximum per net at a time
Clients may only pre-book one slot per activity per day.
Table Tennis Protocols - currently not available
Table tennis tables only available during scheduled times in room 3205
Tables can be set for full play, or angled to accommodate single player practice skill
Paddles & balls available to borrow from Client Services
Equipment Rental
A selection of equipment is available for loan to U of G Students/Athletics Members during Recreation times. Fees may apply for some items, visit Equipment Lending for details.
Facility Guidelines
Athletics is committed to providing a safe, inviting recreation experience for the University of Guelph community. Please assist us by adhering to the following guidelines.
Individuals must be 12 years or older to participate in NRG Classes and 16 years or older to use the Fitness Centre.
Persons 15 years of age and under participating in Recreation activities must be accompanied by a paying parent or guardian at all times.
Athletic clothing appropriate to the activity must be worn.
Clean athletic footwear with non-marking soles must be worn on all surfaces.
Programming space is to be shared appropriately with all participants.
Food or glass bottles are not permitted in the gymnasiums or program rooms.
Inappropriate behavior such as swearing, physical or verbal abuse will not be tolerated and may result in loss of building access privileges and/or immediate removal from facility.
All programming ends 30 minutes prior to the building closing. All equipment must be returned at this time.
Change rooms will be inspected by a Client Services Representative upon building closure.
Failure to follow these guidelines may result in removal from facility and/or loss of access privileges.
Please forward any comments or suggestions to Client Services 519-824-4120 ext. 56253.
What Participants Have Said...
Be the first to tell us about your experience.