Drop-in Rec is included within the Recreation Membership. Racquet Sports may include Badminton, Pickleball, Squash & Table Tennis. See Drop-in Rec Calendar for weekly availability, schedule is updated weekly every Tuesday.
Table Tennis
Table Tennis takes place in Rec Room 173 in the Guelph Gryphons Athletics Centre.
Table Tennis
Table Tennis takes place in Rec Room 173 in the Guelph Gryphons Athletics Centre.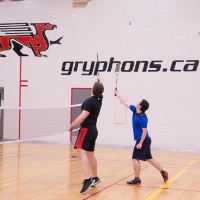 Badminton
Badminton takes place is the West Gym, located in the Guelph Gryphons Athletics Centre.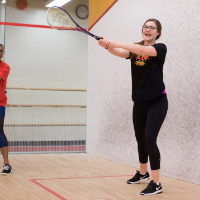 Squash
We have 5 squash courts that are located on the North and South ends of the West Gym and must be pre-booked.
Table Tennis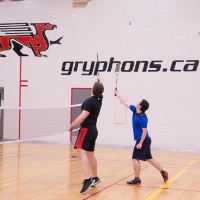 Badminton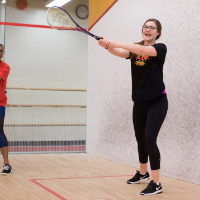 Squash
Racquet sports provide a fun experience for individuals of all abilities.
Drop-in Rec Protocols
If you are sick or do not feel well, please stay home
All users must enter through the appropriate entrances: Larry Pearson/Gryphon Centre Arena/Gryphon Field House main doors
Everyone must check-in upon arrival at Client Services/with Rink Attendant/Field House Info Desk
Children (Ages 5-12) must be accompanied by a parent/guardian (16+), that must be within eyesight of the child at all times. The parent/guardian is required to purchase a membership if they are participating with the child, but are not required if only watching. Waiver must be signed by parent/guardian (18+). View more details about Child & Youth Memberships here
There is NO Access to Athletics facilities & programs without a registered program, membership, Day Pass, Ticket or Rental Permit, otherwise you will be trespassing, and the Campus Safety Office will be contacted.
Equipment Rental
A selection of equipment is available for loan to U of G Students/Athletics Members during Recreation times. Fees may apply for some items, visit Equipment Lending for details.
Enforced Squash Court Booking Policies
Bookings can only be made for yourself. Booking for others is NOT Permitted.
Bookings available to reserve 7 days in advance, on the hour.
Individuals may book a maximum of 3 slots for the week.
Individuals may only book 1 court per day.
Time slots will be available to reserve up until 1 hour before the desired start time.
Clients should cancel reservations on their own and can do so without penalty up to 1 hour before the booked time.
Reservations can be managed through the app, your email confirmation or by calling Client Services (519 824 4120 Ext. 56253).
Non-members will be denied access to reserved time slots.
All Clients must check in when they arrive prior to any booking.
Clients who register for a time and continuously do not show will have their memberships temporarily suspended.
Reserve your Squash Court here
Squash
All Squash Courts must be reserved in advance.
Racquet Rentals available at Client Services for a fee
Squash safety glasses are strongly recommended and are available at no charge from Client Services
Clean athletic footwear is required
Badminton
Four players maximum per net at a time
Racquet Rentals available at Client Services for a fee
Squash Safety Glasses are strongly recommended & available at Client Services
Clean Athletic Footwear required
Pickleball
Four players maximum per net at a time
Table Tennis
Table tennis tables only available during scheduled Rec times in the Rec Room 173
Tables can be set for full play, or angled to accommodate single player practice skill
Paddles & balls available to borrow from Client Services
Please assist us by adhering to the following Facility Guidelines:
All users must enter via the front entrance. University of Guelph Students/Members are required to swipe in with their Student/Membership card. Fitness Centre users will be required to swipe again at the Fitness Centre Desk
Non-Members can purchase a Day Pass or Monthly Recreation Membership online or in-person at Client Services
DO NOT SHARE your membership card. This will result in loss of privileges
All children (individuals 12 years of age or younger) must always be accompanied by an adult while in the building
Children 7 years of age or older are required to use the change room designated for their gender
Universal/Non-Gender change rooms available for families and individuals looking for a non-gender specific space
Athletic clothing appropriate to the activity must be worn
Clean athletic footwear with non-marking soles must be worn on all surfaces
Programming space is to be shared appropriately with all participants
Food or glass bottles are not permitted in the gymnasiums or program rooms
Bicycles are not to be brought inside University buildings and stored in corridors, stairwells, or personal offices as tires track in dirt and the fabric of the structures inevitably gets damaged (scratched or punctured walls, oil and grease on floors and carpets etc.). Outside bicycle racks are provided. Unobstructed egress from University buildings is essential for safe emergency evacuations
Inappropriate behavior such as swearing, physical or verbal abuse will not be tolerated and may result in loss of building access privileges and/or immediate removal from facility
Users must recognize and accept the risks inherent in any Activity
Users are responsible for their own personal health and safety
All programming ends 30-60 minutes prior to the building closing. All equipment must be returned by that time
Change rooms will be inspected by a Client Services Representative upon building closure
Failure to follow these guidelines may result in removal from facility and/or loss of access privileges.