Currently the Wall is only open for Group Bookings & Kids programming until the end of the Summer.
View Group Booking information below.
Welcome to the GGAC Indoor Rock Climbing Wall. During Fall & Winter semesters, UofG Students & Adults 18+ with a Recreation Membership get access to the Climbing Wall during below hours by purchasing a Rock Climbing Membership or NRG PLUS. All equipment is free, including climbing shoes & harnesses. Kids can check out our Learn to Climb Activities by visiting Kids Skill Development for details & to enroll.
Here's what to expect in the Fall when the Climbing Wall re-opens:
Climbing Pass ($70+HST/semester)
Purchase/Upgrade to NRG PLUS details
Climbing Day Pass ($15+HST/day) Purchase in-person @ Client Services
Below is just an EXAMPLE of what the hours may be in the Fall & Winter.
Monday
Closed for inspection/maintenance
Tuesday
12 - 9pm
Wednesday
12 - 7pm
Wednesday Women's Only
7 - 9pm
Thursday
12 - 9pm
Friday Women's Only
12 - 2pm
Friday
2 - 8pm
Sunday
3 - 8pm
Questions about Climbing Memberships & Programs or checking to see how busy the Wall is before you arrive? You can now call direct to the Climbing Wall at (519) 824-4120 Ext. 52298 (extension monitored during above hours only).
Looking to make an inquiry about renting or group bookings, please call Kevin Lindner at (519) 824-4120 Ext. 53738.
Climbing Wall - Group Bookings (12-18 people) 2 Hours
Looking to create some team spirit with your student group, team or organization? We've got you covered with our 2-hour Group Climb Program.
Your group will have exclusive use of the Climbing Wall as they enjoy socializing in a unique setting, all while supporting each other at the same time. Our trained Climbing Monitors will provide an introduction to indoor rock climbing orientation with a 1:6 staff ratio, providing support & encouragement for each person to experience bouldering, top rope climbing and auto belays. Climbing Monitors will be the belayers as they provide climbing tips and suggestions. Includes: climbing shoes (sizing dependent) & harnesses.
Fees
Up to 12 Climbers - $135 +HST
Up to 18 climbers - $200 +HST
Book Online
Please note that you will be emailed with confirmation details about your climbing experience approximately two days after booking online.
Other group booking timeslots may occur outside of our member open hours, but not guaranteed (contact Kevin Lindner at lindner@uoguelph.ca if interested in a different timeslot)
Climbing Wall
Welcome to Gryphon Climbing Wall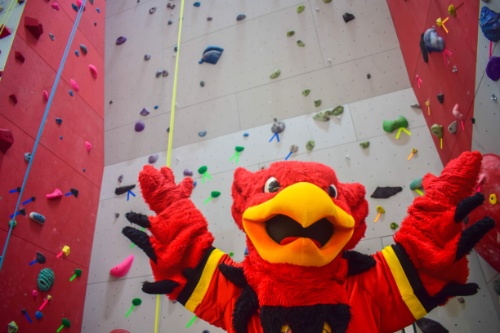 Open Climbing Wall Protocols
We have created a set of safety protocols that are in accordance with the University of Guelph and conform to other climbing gym policies & procedures located in the surrounding area.
All users will enter through the Larry Pearson entrance
Everyone must check-in at Client Services upon arrival
Prior to climbing top rope with a belayer, individuals must pass the belay test. Climbing Wall Monitors can assist with belaying on top rope during Newcomer hours
Climbing Wall Guidelines
Athletics is committed to providing a safe, inviting experience for the University of Guelph community. Please assist us by adhering to the following guidelines:
Try not to touch your face when climbing or without sanitizing/cleaning first and practice proper respiratory etiquette

Sanitize hands when entering & exiting the indoor climbing wall location

Sanitize between climbs, if possible. We encourage sanitizing between climbs as we cannot sanitize the rope and rock holds

Please physical distance as much as possible (2m distance). No congregating or sitting down in groups

To help keep the air and climbing area as clean as possible, please use liquid chalk or chalk socks/balls (we prefer no loose chalk)

When climbing top rope, you must have at least one climbing route between yourself and any other climbers on the wall

Bouldering must be respectful of the distance between each other and not get close to each other

Please come dressed to climb as there are no change rooms at the climbing wall. If necessary, please use the Athletics Centre Changerooms
Equipment Rental
Climbing shoes & harnesses are available for free and will be cleaned and quarantined after each usage