Gryphons Performance Academy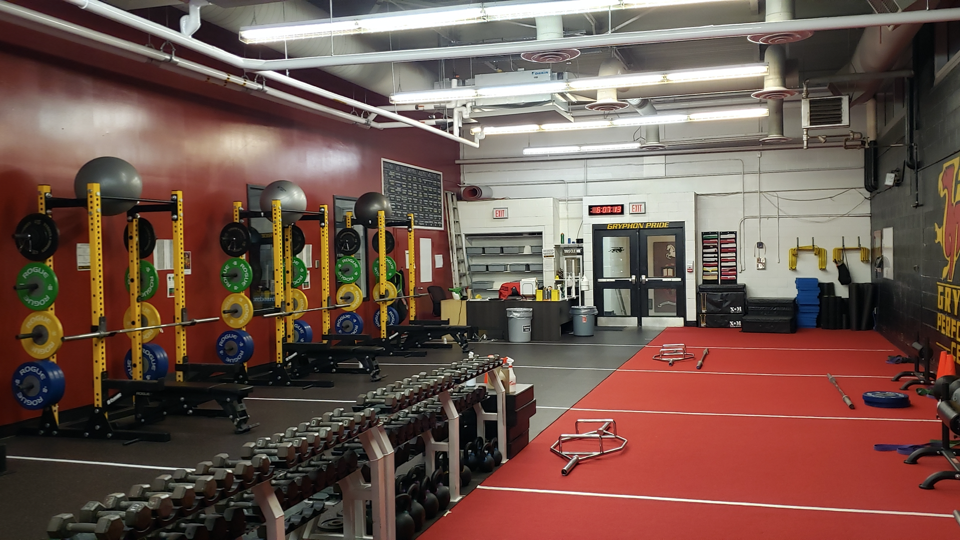 Membership Fees
Individual Sessions
| Fee | Dates | Time | | Age | |
| --- | --- | --- | --- | --- | --- |
| $50 per 1 hour session | Monday-Friday | 5-10pm | | 11 and up | |
| Minimum purchase of 12 sessions. | All fees subject to HST. | | | | |
Small Group Sessions
| # Athletes | Dates | Time | Age | | Fee |
| --- | --- | --- | --- | --- | --- |
| 2-5 Athletes | Monday-Friday | 5-10pm | 11 and up | | $95 per 1 hour session divided amongst all athletes in session. |
| 6-9 Athletes | Monday-Friday | 5-10pm | 11 and up | | $115 per 1 hour session divided amongst all athletes in session. |
| | | | | | Minimum purchase of 12 sessions. All fees subject to HST. |
Team Sessions
Custom team sessions are available for all sports! Please contact Mac James, Lead Performance Academy Coach for details. macjames@uoguelph.ca
Facilities

The Gryphon Performance Centre opened in January 2017 in the W.F. Mitchell Centre. The 3000 sq. ft. facility is home to the Gryphon Basketball, Volleyball, Hockey, Soccer, and Rugby teams. The space boasts a generous turf area for indoor speed, agility and plyometric development as well as 7 fully outfitted half racks with Rogue barbells and bumper plates. A full complement of dumbbell's, medicine balls, jump boxes, hurdles, bands, agility ladders and testing equipment are also available. All Multi-Sport and Team Sessions take place in the Gryphon Performance Centre unless otherwise stated.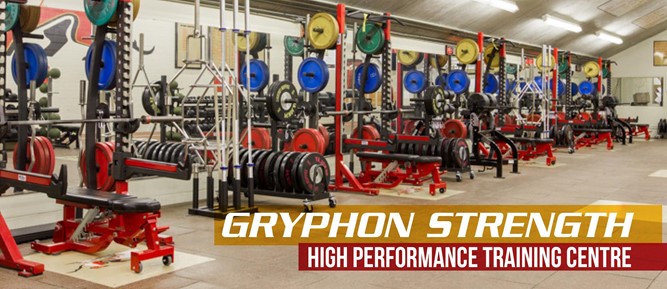 Located at Alumni Stadium, the Alumni Performance Centre if the primary training facility for the Gryphon Football and Track & Field teams. The 4000 sq. ft. space is outfitted with 6 half racks each with an Olympic weightlifting platform, a variety of barbells and trap bars, Pendlay bumper plates, dumbell's from 5lb-140lb, medicine balls, TRX, bands, etc. There is also a number of accessory machines such a 3 Keiser cable systems, glute/ham machines, and 2 lane indoor track with crash mats for speed development work. All Football Sessions take place in the Alumni Performance Centre unless otherwise stated.
Testimonials
"I have been doing dry land training at the U of G since March working with Mac James (Asst Strength & Conditioning Coach at the U of G) and Josh Ford (Head Strength & Conditioning Coach for the U of G). It is called the Gryphon Performance Academy. The gym is located right across from the hockey rink.
Since I have been doing the GPA program I have noticed improvements in my speed, strength and balance. These changes were particularly evident, and satisfying, when I did 3 weeks of power skating in June/July - I felt powerful, strong and confident.
Not only did I see changes in my physical self (I gain about 13lbs) and ability, since my hockey season has started, I am even more proud of the mental confidence and strength that I now feel knowing that I have prepared and gone that extra mile to ensure I am at my optimum level to perform.
Additionally, another benefit to the program is the exposure to varsity athletes - I find it inspiring and energizing to watch, and sometimes train alongside, these elite athletes! I look forward to every minute I am at the gym with Mac and Josh. These guys are motivating, tough and bring out the best in each person they work with."
- Cole Dal Bello
"Eliza joined the Gryphon Performance Academy in January 2017 in preparation for her summer soccer season and continues to train for her overall health and well being long after her season finished. She is trained on correct techniques in a personalized strength and conditioning program that is sport specific. Eliza has been injury free since she started training due to her preparation for the season with GPA. She is physically and mentally stronger than ever before. Mac and Josh have created a positive, professional and athlete centred environment that will benefit every Junior Gryphon athlete and enrich their team training."


- Frank & Luisa Cazzola
"Johnny and his basketball teammates (grade 8) began weekly training with Mac James and Josh Ford in the summer of 2017 for their upcoming basketball season. Mac, Josh, and their staff are all very positive, encouraging, and enthusiastic with all the boys. Johnny learned the appropriate ways to stretch before each practice/game, and what basketball specific exercises he could do at home each day on his own to improve his physical strength, flexibility, speed, and agility. Johnny and his basketball teammates have signed up for another weekly session of training with Mac and Josh for the Fall of 2017 to continue to improve their strength and fitness during their basketball season. We can already see how Johnny has improved physically from learning at an early age how to train properly, and the relationship he is developing with Guelph Performance Academy Team will only benefit him positively for many years to come. "
John and Johnny Beaton
18 October 2017
Both of my sons first worked out with Josh and Mac at the Gryphon Performance Academy in the summer of 2017. Kent (16) was working out individually and Robert (12) was working out as part of his team.
Over the course of the summer I saw a great deal of change in both my son's. Both boys became more confident in their strength and athleticism. This has allowed them through the summer and fall to challenge themselves more in their basketball practices.
I have seen both boys get not only stronger but they move better, run faster, jump higher and are more flexible.
My kids both comment on how great Coach Josh and Coach Mac are and how they motivate them and push them hard to succeed. They like that the coaches have expectations and are unafraid to push them to help them get better.
Long term I see a great benefit for them as they are realizing how to properly work out and the importance of working out the right way.
Kurt Vosper
VP of Rep
Guelph Youth Basketball Association
Meet Our Strength Coaches
Mac James
Lead Coach Gryphons Performance Academy
Mac is in his second season with the Gryphons Strength and Conditioning team as the Assistant Strength and Conditioning Coach and Lead Coach for the Gryphons Performance Academy.

Mac comes to Guelph with experience across many sports as a coach, trainer, and athlete. While studying at University of Guelph-Humber working towards a BASc. Kinesiology and a Diploma in Fitness and Health, Mac discovered a passion for athletic development. This led to various strength and conditioning internships and jobs in the private sector learning from some of the top coaches in the industry. Mac currently has helped athletes of all levels from youth, high school, OHL, CIS, CCAA, NCAA, national and professional level.

Mac has played basketball his entire life, finishing his competitive career playing for the Humber Hawks (OCAA), where he was a part of a Provincial Gold and National Bronze winning team. Mac holds the NSCA-CSCS (Certified Strength & Conditioning Specialist) certification.
Josh Ford
Head Strength & Conditioning Coach
Josh received a Specialized Honours Degree in Kinesiology & Health Science from York University where he worked as a Student-Assistant S&C Coach. During this time he sought out opportunities to learn from the best which led him to an internship at Mike Boyle Strength and Conditioning outside of Boston and a mentorship with Todd Wright with the University of Texas Men's Basketball program. From there he worked as a strength coach with the Stouffville Spirit Junior Hockey Club, was part of an OFSAA Championship with the Eastern Commerce Collegiate Saints Basketball program and spent a season and a half with Ryerson Men's Basketball. Josh has also served as a Strength Coach for Canada Basketball's Men's Programs for the past 5 years.

More recently Josh spent time in the NCAA making a stop at the University of Evansville before moving on to become Assistant Director of Basketball Performance at the University of Maryland. There he was fortunate to win an ACC Championship and go to an Elite 8 with the Women's Basketball program. Prior to joining the Gryphons Josh spent a year with the McMaster Marauders working with the Volleyball and Basketball teams.

Josh holds the following certifications: CSCS from the National Strength & Conditioning Association, Precision Nutrition Level 1 Coach, FMS Level 1, Bioforce Certified Conditioning Coach.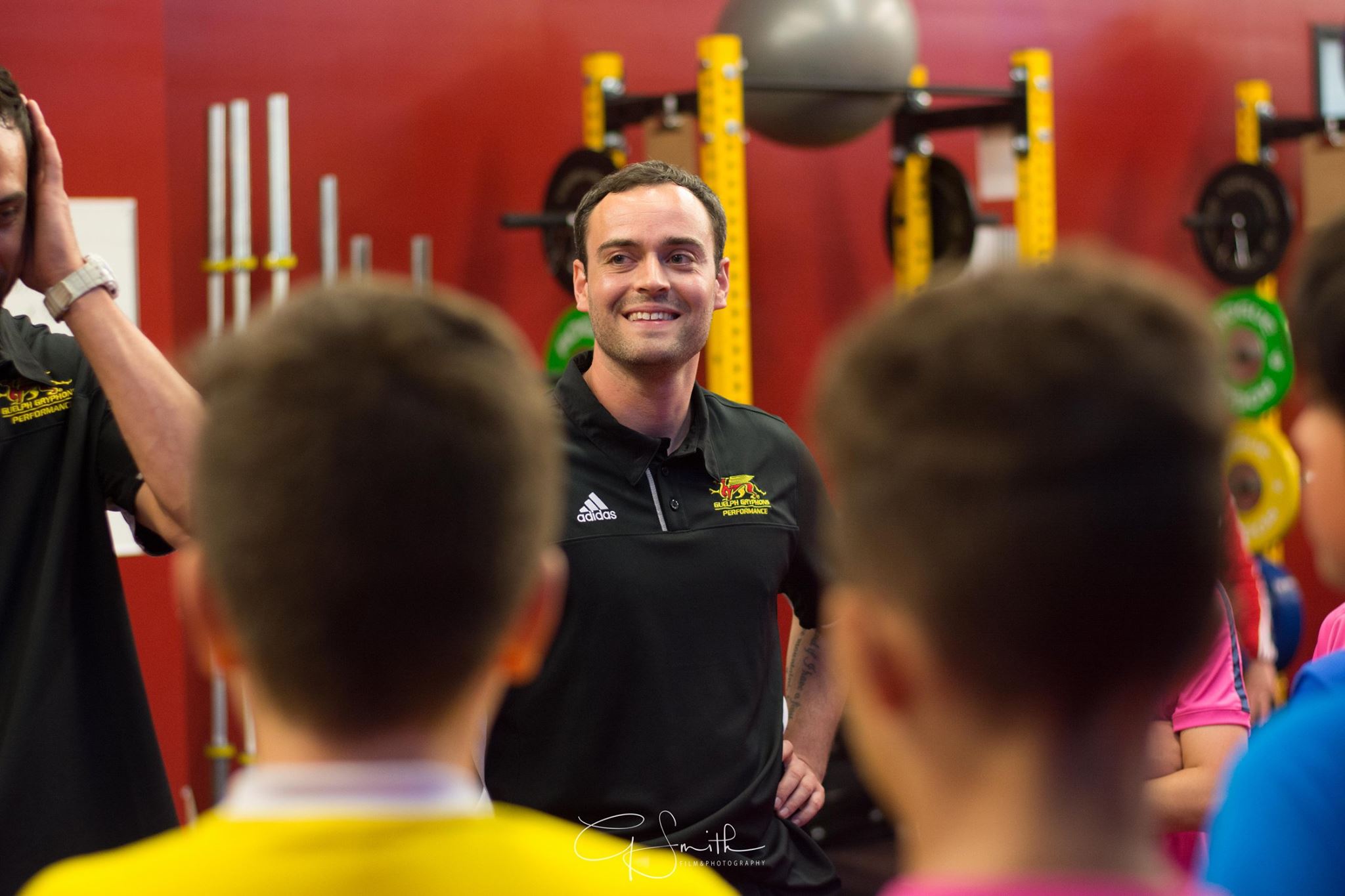 Guelph Gryphons Athletics Centre
50 East Ring Road, Guelph, ON, N1G 4Z8