Rec Swimming
The Gold Pool is kept at 80°F and has 8 lanes. It is 25m long and 6ft deep with a capacity of 225 (Spectators) and 250 (Participants).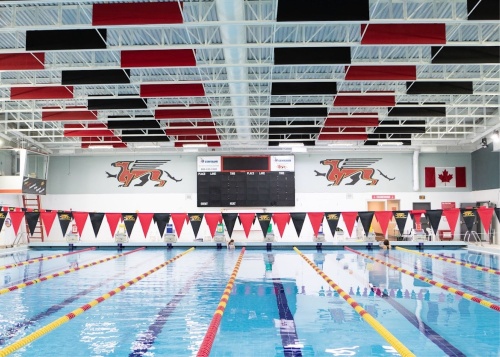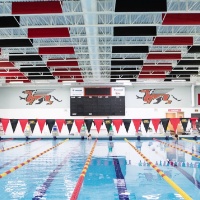 Gold Pool
The Gold Pool is kept at 80°F and has 8 lanes. It is 25m long and 6ft deep with a capacity of 225 (Spectators) and 250 (Participants).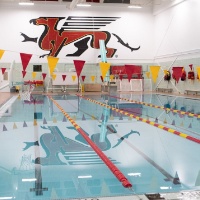 Red Pool
The Red Pool is kept at 84°F and has 5 lanes. It is 25yds long and 4-11ft deep with a capacity of 115 (Spectators) and 125 (Participants). It also features a diving board and an accessible lift.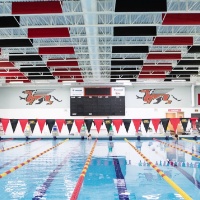 Gold Pool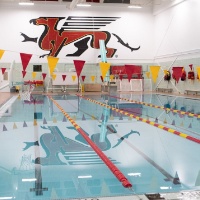 Red Pool
Hot Tub
The Hot Tub is open during Length/Recreation Swims only.
Note: Hot Tub will be closed every Wednesday afternoon until Thursday mid-morning for cleaning.
Hot tub will also close during competitive swim meets for safety purposes.
Drop-in Rec Protocols
If you are sick, please stay home
All users will enter through the Larry Pearson entrance
Everyone must check-in at Client Services upon arrival
Everyone must obey physical distancing guidelines while in the facility
Masks requirements, view details here.
Children (Ages 5-12) must be accompanied by a parent/guardian (16+), that must be within eyesight of the child at all times. The parent/guardian is required to purchase a membership if they are participating with the child, but are not required if only watching. Waiver must be signed by parent/guardian (18+). View more details about Child & Youth Memberships here
Rec Swim Protocols
Pre-Booking/Reserving your time slot is NO LONGER REQUIRED for Rec Swims.
Please refrain from entering the pools until a lifeguard is on duty
Street shoes are not permitted on the deck
Children 15 years of age and under are not permitted in the Hot Tub unless accompanied by an adult
Limited seating for spectators will be clearly marked
Hair dryers and bathing suit dryers are currently not available
Swim snorkels are not permitted at this time
Red Pool Diving board and Gold Pool diving blocks not available for public use
Length swims available in both the Gold & Red Pool
Rec swims are available in the Red Pool
POOL SAFETY MEASURES DURING THE PANDEMIC
Scheduled cleaning takes place in between all pool programs where all high touch-point surfaces are disinfected, and clean swim equipment is re-stocked. There is no evidence that the virus that causes COVID-19 can be spread to people through the water in pools, hot tubs, or water playgrounds. Additionally, proper operation of these aquatic venues and disinfection of the water (with chlorine or bromine) should inactivate the virus. https://www.cdc.gov/coronavirus/2019-ncov/faq.html#Water
Pool Admission Standards
For a Visual Explanation of Pool Admission Standards Click here
Children 5 years of age and under must be directly supervised (within arm's reach), regardless of swimming ability, by a guardian 16 years of age or older. Maximum of 2 children per guardian
Children 6-9 years of age, who cannot swim 2 uninterrupted widths of the Red Pool, must be supervised by a guardian 16 years of age or older
Guardian must be present at the time of the swim test
Maximum of 4 children per guardian
The ratio of guardians to swimmers 6-9 years of age, who cannot complete the facility swim test, may be increased to a maximum of 8 bathers to one guardian if approved personal flotation devices are worn by all non-swimmers in their care
Those with serious medical conditions should be accompanied by an individual knowledgeable of their condition and responsible for their direct supervision
Lane Swim Etiquette
Centre lanes are for faster, continuous swimming
Please circle swim unless agreed upon with lane-mates to swim side by side
Slower, lap swimming on each side of fast lanes
Outer lanes for slow/beginner swimmers, and water workouts
Equipment Purchase/Rental
Swim goggles and caps are available for purchase at Gryphs Locker retail store. A selection of equipment is available for loan to U of G Students/Athletics Members during Drop-in Rec times. Fees may apply for some items, visit Equipment Lending for details.
Please assist us by adhering to the following Facility Guidelines:
All users must enter via the front entrance. University of Guelph Students/Members are required to swipe in with their Student/Membership card. Fitness Centre users will be required to swipe again at the Fitness Centre Desk
Non-Members can purchase a Day Pass in-person at Client Services or purchase a Monthly Recreation Membership online
DO NOT SHARE your membership card. This will result in loss of privileges
All children (individuals 12 years of age or younger) must always be accompanied by an adult while in the building
Children 7 years of age or older are required to use the change room designated for their gender
Universal/Non-Gender change rooms available for families and individuals looking for a non-gender specific space
Athletic clothing appropriate to the activity must be worn
Clean athletic footwear with non-marking soles must be worn on all surfaces
Programming space is to be shared appropriately with all participants
Food or glass bottles are not permitted in the gymnasiums or program rooms
Bicycles are not to be brought inside University buildings and stored in corridors, stairwells, or personal offices as tires track in dirt and the fabric of the structures inevitably gets damaged (scratched or punctured walls, oil and grease on floors and carpets etc.). Outside bicycle racks are provided. Unobstructed egress from University buildings is essential for safe emergency evacuations
Inappropriate behavior such as swearing, physical or verbal abuse will not be tolerated and may result in loss of building access privileges and/or immediate removal from facility
Users must recognize and accept the risks inherent in any Activity
Users are responsible for their own personal health and safety
All programming ends 30-60 minutes prior to the building closing. All equipment must be returned at this time
Change rooms will be inspected by a Client Services Representative upon building closure
Failure to follow these guidelines may result in removal from facility and/or loss of access privileges. Please forward any comments or suggestions to Client Services 519-824-4120 ext. 56253. Please forward any comments or suggestions to Client Services 519-824-4120 ext. 56253.
There is NO Access to Athletics facilities & programs without a registered program, membership, Day Pass, Ticket or Rental Permit, otherwise you will be trespassing, and the Campus Safety Office will be contacted.
Guelph Gryphon Athletics Centre
50 East Ring Road, Guelph, ON, N1G 4Z8