Rec Swimming
View the weekly Recreation Calendar by hovering over the Sports & Clubs menu item above, then click on the Recreation column heading. View weekly Recreation Calendar updated weekly every Tuesday.
Pre-booking for Rec Swims is still required to ensure availability prior to arrival.
After reviewing below Policies & Protocols, please proceed to view availability and reserve your time slot @
gryphons.ca/reservations
Rec Swimming
The Gold Pool is kept at 80°F and has 8 lanes. It is 25m long and 6ft deep with a capacity of 225 (Spectators) and 250 (Participants).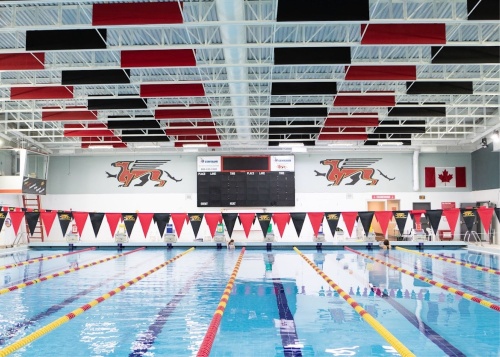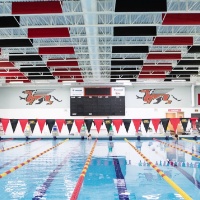 Gold Pool
The Gold Pool is kept at 80°F and has 8 lanes. It is 25m long and 6ft deep with a capacity of 225 (Spectators) and 250 (Participants).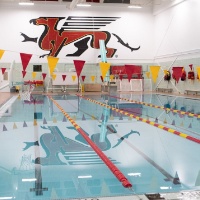 Red Pool
The Red Pool is kept at 84°F and has 5 lanes. It is 25yds long and 4-11ft deep with a capacity of 115 (Spectators) and 125 (Participants). It also features a diving board and an accessible lift.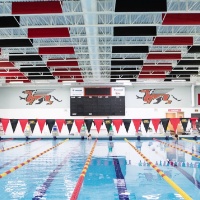 Gold Pool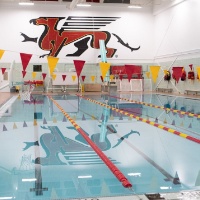 Red Pool
All Visitors must be prepared with the following, every time they access our facilities:
U of G's COVID-19 Screening Form
Enhanced vaccine certificate with QR code (digital or printed)
Please view Screening/Vaccination requirements full details here
Enforced Booking Policies
All Rec Swim time slots must be reserved in advance due to limited availability.
Bookings can only be made for yourself (not applicable to Guardians). Booking for others is NOT Permitted.
All family members attending Rec Swims will need to be booked separately - in-person and phone-in requests will not be taken.
Length swims available in both the Gold & Red Pool with a maximum of three patrons per lane.
Rec swims are available in the Red Pool with a maximum of 24 swimmers.
Bookings available to reserve 7 days in advance, on the hour.
Time slots will be available to reserve up until 1 hour before the desired start time.
Clients should cancel reservations on their own and can do so without penalty up to 1 hour before the booked time.
Reservations can be managed through the app, your email confirmation or by calling Client Services (519 824 4120 Ext. 56253).
Non-members will be denied access to reserved time slots.
All Clients must check in when they arrive prior to any booking.
Clients who register for a time and continuously do not show will have their memberships temporarily suspended.
Rec Swim Protocols
If you experience any symptoms on the screening form or do not feel well, please stay home
Recreation Members will enter through the Larry Pearson entrance
Everyone must check-in at Client Services upon arrival
Everyone must obey physical distancing guidelines while in the facility
Everyone must obey physical distancing guidelines while in the facility
Face masks must be worn while in the facility.
Bandanas and scarves are not acceptable face coverings.
Swimmers will be required to wear their face mask on the pool deck up until their scheduled pool time, and then again while exiting the pool area
Swimmers will not be permitted on the pool deck until 5 minutes prior to their scheduled swim time
Limited seating for spectators will be clearly marked
Hair dryers and bathing suit dryers are currently not available
Swim snorkels are not permitted at this time
Red Pool Diving board and Gold Pool diving blocks not available for public use
POOL SAFETY MEASURES DURING THE PANDEMIC
Scheduled cleaning takes place in between all pool programs where all high touch-point surfaces are disinfected, and clean swim equipment is re-stocked. There is no evidence that the virus that causes COVID-19 can be spread to people through the water in pools, hot tubs, or water playgrounds. Additionally, proper operation of these aquatic venues and disinfection of the water (with chlorine or bromine) should inactivate the virus. https://www.cdc.gov/coronavirus/2019-ncov/faq.html#Water
Recreational Swim Information
Children 7 years of age or older are required to use the change room designated for their gender
Universal/Non-Gender change rooms available for families and individuals looking for a non-gender specific space
Please refrain from entering the pools until a lifeguard is on duty
Street shoes are not permitted on the deck
Children 15 years of age and under are not permitted in the Steam Room or Hot Tub unless accompanied by an adult
Pool Admission Standards
For a Visual Explanation of Pool Admission Standards Click here
Children 5 years of age and under must be directly supervised (within arm's reach), regardless of swimming ability, by a guardian 16 years of age or older. Maximum of 2 children per guardian
Children 6-9 years of age, who cannot swim 2 uninterrupted widths of the Red Pool, must be supervised by a guardian 16 years of age or older
Guardian must be present at the time of the swim test
Maximum of 4 children per guardian
The ratio of guardians to swimmers 6-9 years of age, who cannot complete the facility swim test, may be increased to a maximum of 8 bathers to one guardian if approved personal flotation devices are worn by all non-swimmers in their care
Those with serious medical conditions should be accompanied by an individual knowledgeable of their condition and responsible for their direct supervision
Lane Swim Etiquette
Centre lanes are for faster, continuous swimming
Please circle swim unless agreed upon with lane-mates to swim side by side
Slower, lap swimming on each side of fast lanes
Outer lanes for slow/beginner swimmers, and water workouts
Equipment
Swim goggles and caps are available for purchase at Gryphs Locker retail store.
A selection of equipment is available for loan to U of G Students/Athletics Members during Recreation times. Fees may apply for some items, visit Equipment Lending for details.
You are an Athletics Member if you are a registered full or part-time undergraduate or a full-time graduate student of the University of Guelph (Athletics Base Membership paid within your academic fees) or have purchased an Athletics Base Membership.
Guelph Gryphons Athletics Centre
50 East Ring Road, Guelph, ON, N1G 4Z8