Harrison Barr leading a traditional climb on a club trip to Arkansas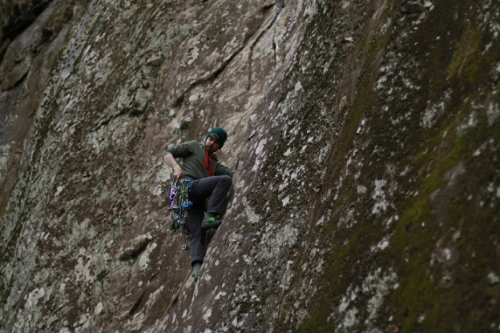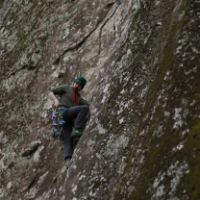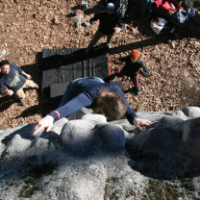 Climbing Club
Sign Up: https://ca.apm.activecommunities.com/uofg/Activity_Search/climbing-club/20222
The U of G Climbing Club is the perfect place for anyone who wants to advance their rock climbing. We have dedicated club hours for indoor climbing at the Athletics Center climbing wall and host weekly outdoor climbs! We welcome all climbers at any experience level - challenge yourself and come climb!
Our Mission Statement
The U of G climbing club (UGCC) aims to ensure that climbers can advance their skills and become part of a thriving community. UGCC hopes its passion for climbing can continue to inspire current and future climbers to explore the vertical (and occasionally horizontal) movement across rock, indoors and out. UGCC is the perfect place for anyone hoping to advance their rock climbing and welcomes climbers of all skill levels.
About the club
UGCC has been a club on campus since the 1990s. Historically, UGCC has always climbed indoors during the fall and winter semesters, with the occasional outdoor trip during Christmas break or reading week. As of the Summer 2022 semester, UGCC has transitioned to outdoor climbing! The club hosts outdoor events at local conservation areas, such as Rattlesnake Point and Mount Nemo in the Halton conservation area, as well as occasional day trips to further destinations like The Swamp in Collingwood. Additionally, UGCC has begun hosting the occasional training course to introduce proper skills and techniques for new climbers or climbers transitioning from indoor to outdoor climbing!
Executive Team
Jason Kemp (Co-president, Safety Officer)
Gavin Brady (Co-president, Treasurer)
Jeremy Foxcroft (Scrivener)
Natalie Wright (Director of Administrative Operations)
Lillian McClure (Director of Events)
Rachel Dalton (Director of Social Media and Promotions)
Fee's
F22 and W23: $30
W23: $15
Practice time
Winter practice times are still TBD. Stay tuned.
Outdoor climbs occur weekly - please see our Outdoor Climbing Facebook page for details.
Social media/contact
If you have any questions about the UGCC, please reach out to us via email! To stay up-to-date with news, events and more, join our Facebook groups and follow us on Instagram! All current members are highly encouraged to join the Facebook groups as that is where our club information will be found.
Email
Facebook
Instagram

https://www.instagram.com/uogclimbingclub/
Links
Climbing Q&A