W.F. Mitchell Centre - Squash Courts
Squash Courts
There are 5 Squash Courts that can be accessed through the West Gym.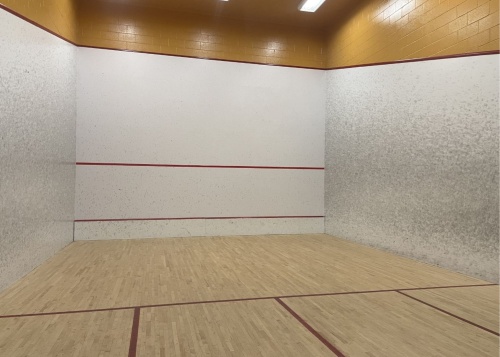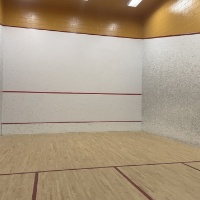 Squash Courts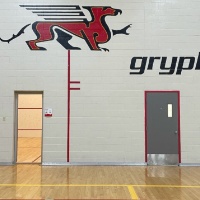 Squash Courts - North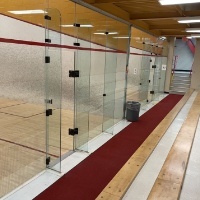 Squash Courts - South
Squash Court(s) Details
FEATURES:
Squash courts are available for use and are located in the West Gym.
Members are free to use the courts at no charge, non-members must purchase a Daily Access Pass.
Squash racquets and balls are available for rental, to members only, at the Equipment Lending desk.

Racquets are $3.00 per racquet per rental.
SQUASH COURT RESERVATION PROCEDURES:
Make a court reservation online here or in-person at Client Services
Court times can be reserved 7 days in advance of the current day.
Individuals may book a maximum of 3 slots for the week on Tuesdays.
Individuals may only book 1 court per day.
If you are more than 10 minutes late for a reserved court, you will forfeit your reservation.
Squash safety glasses are strongly recommended and are available at no charge from Client Services.
Clean athletic footwear is required.
Squash Court Rules & Regulations
Violation of any of the below-listed Rules & Regulations may result in loss of facility access privileges and/or immediate removal from the facility.
NO ANIMALS are allowed. All animals must remain outside of the facility.
Plastic Water Bottles containing WATER ONLY are allowed inside of the facility. Absolutely NO glass containers. Water Refilling stations are available inside the facility.
NO FOOD products are allowed inside of the facility; including GUM, and all SEED or NUT products.
Clean athletic footwear with non-marking soles must be worn on all surfaces. Absolutely NO outdoor footwear is allowed into the Gymnasium floor area.
Absolutely NO ALCOHOL or TOBACCO products are allowed inside any of our facilities. U of G is proud to be a tobacco- and smoke-free environment. Smoking, vaping and the use of smokeless tobacco is not permitted on campus. www.uoguelph.ca/smokefree.
Bicycles, Skateboards or Motorized vehicles are NOT allowed inside of the facility.
Fireworks or other Explosive devices are NOT permitted.
NO LOITERING, please be respectful of others who will be accessing the facility immediately upon your rental completion.
Programming space is to be shared appropriately with all participants.
Athletic clothing appropriate to the activity must be worn.
Inappropriate behaviour such as swearing, physical or verbal abuse will not be tolerated and may result in loss of building access privileges and/or immediate removal from facility.
Persons 15 years of age and under must be supervised by an adult at all times.
All programming ends 30 minutes prior to the building closing. All equipment must be returned at this time.
Change rooms will be inspected by an Athletics Staff Representative throughout the day and upon building closure.
Use of scoreboard and timing systems must be arranged at time of rental booking in order to ensure use for your event or rental.
DO NOT leave any valuables unattended, the University of Guelph is NOT responsible for lost or stolen items.
Guelph Gryphons Athletics Centre
50 East Ring Road, Guelph, ON, N1G 4Z8