Meeting Room 131
Meeting Room 131 set up for medium to large size meetings.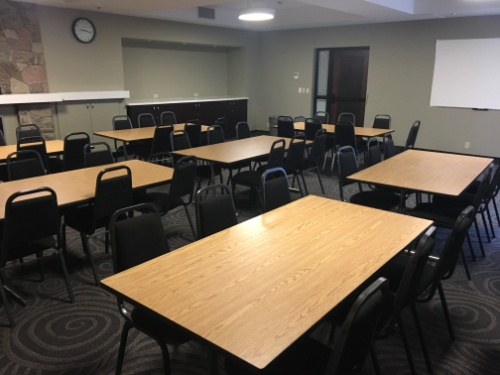 Meeting Room 131 is a medium - large sized meeting space accommodating 45-50 people.
Rental rate: $60.00 / Hour + HST
Contact Information
Facility Supervisor Contact:
Andrew Godard
Tel: 519-824-4121, ext. 58863
Email: godarda@uoguelph.ca
Athletics Facility Booking Office Contact:
Tel: 519-824-4120, ext. 53790
Fax: 519-821-7973
Email: gryphon.facility@uoguelph.ca
**Gryphon Athletics Facility Booking Office hours are Monday to Friday, 8:30am to 4:30pm.
**Please note the office is closed on Statutory holidays.
Guelph Gryphons Athletics Centre
50 East Ring Road, Guelph, ON, N1G 4Z8