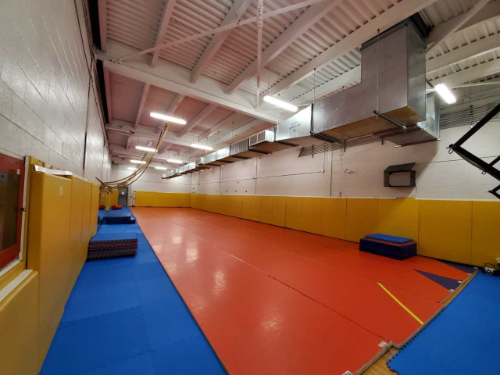 The Combatives Room is a large area containing floor mats. It is primarily utilized by martial arts classes and clubs.
Features of this space include:
Padded floor
Climbing Ropes
Chin up bars
Activities and Programming in this space include:
Cheerleading course
Martial Arts courses
Wrestling practices
Combatives Room 242 Rental Rate - $55.12 / Hour + HST
Contact Information
Facility Supervisor Contact:
Andrew Godard
Tel: 519-824-4121, ext. 58863
Email: godarda@uoguelph.ca
Kale Dorr
Tel: 519-824-4121, ext. 53556
Email: kdorr@uoguelph.ca
Athletics Facility Booking Office Contact:
Tel: 519-824-4120, ext. 53790
Fax: 519-821-7973
Email: athfacility.booking@uoguelph.ca
**Gryphon Athletics Facility Booking Office hours are Monday to Thursday, 10:00am to 3:00pm.
**Please note the office is closed on Statutory holidays.
Hours are subject to change
Building hours and facility availability will be altered due to special events.These events include, but are not limited to: Convocation, Conference Bookings, Varsity Games, Gryphon Camps, Campus Days, Athletic Banquet & College Royal.
Guelph Gryphons Athletics Centre
50 East Ring Road, Guelph, ON, N1G 4Z8