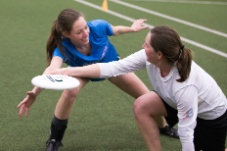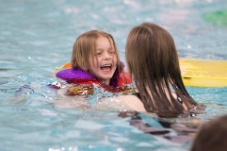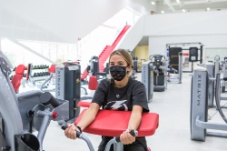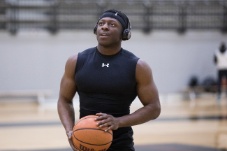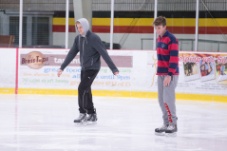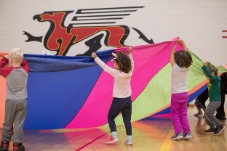 Frequently Asked Questions
Is the Department of Athletics Open due to COVID-19?
As of February 16th, 2021
-
The University of Guelph, Department of Athletics is ready to safely welcome you back into our facilities
as the region of Guelph-Wellington-Dufferin moves to the strengthened measures of Red - Control. For the protection of public health, please continue your attention towards our guidelines and amenity restrictions within our facilities and programs.
Thank you for your continued patience and understanding.
For full details, visit What's New.
Can varsity players be on my team?
Varsity Athletes in a return to train scenario are still considered varsity athletes and continue to be ineligible for intramural sports of the same sport they play.
Varsity players may NOT take part in Intramural competition in the sport they play intercollegiate, players who quit or have left the intercollegiate team are not allowed in their respective sports until the FOLLOWING ACADEMIC YEAR after they have quit or their eligibility expires.
Why do I need a valid university of guelph student card or athletics membership card every game?
To remain consistent and to be fair to all participants, other forms of photo ID are NOT accepted. It is the only way we can truly know that you are a valid University of Guelph or Department of Athletics member paying membership fees. Requiring valid IDs is consistent to gain access to the Athletics Centre, Library and Guelph Transit. We are trying to stay CONSISTENT by enforcing the same procedures in all areas.
How many players does our team need to avoid a default?
3-Pitch - 8 Players (4 Males and 4 Females) – temporarily suspended.
Lobball – 7 – temporarily suspended.
Dodgeball - 6 Players (3 Males and 3 Females) – 6v6 format open format.
Badminton - 1 (Singles) or 2 (1 Male/Female for Mixed Doubles) – 2v2 open format.
Pickleball - 1 (Singles) or 2 (1 Male/Female for Mixed Doubles) – 2v2 open format.
Flag Football/Snow Flag Football - 5 (Minimum 2 of each gender) – temporarily suspended.
Hockey - 6 (for coed 3 Males and 3 Females). – temporarily suspended.
Floor Hockey - 4 (for coed 2 Males and 2 Females)/ 3 (for Men's League) – temporarily suspended.
Indoor Soccer - 4 (for coed 2 Males and 2 Females) – temporarily suspended.
Outdoor Soccer - 7 (Equal M/F ration on field – does not include the goalie)
Ultimate Frisbee - 5 (Equal M/F ratio at all times, odd player of either sex) – temporarily suspended.
Volleyball - 4 (for coed 2 Males and 2 Females) – 4v4 format open format .
Beach Volleyball 2s – 2 – temporarily suspended.
Beach Volleyball 4s – 4 (at least 2 Males and 2 Females) – temporarily suspended.
Innertube Waterpolo - 4 (2 Males and 2 Females) – temporarily suspended.
What happens if I forget my student card?
Unfortunately, due to COVID-19, Grace Passes and 'Ok to Play' Passes will not be issued. University of Guelph ID and any government issued photo ID will be accepted to sign into your games. Although no eligibility will be collected due to the suspension of competitive leagues, players are still required to sign into games to verify identities from a contact tracing perspective. Player's will not be permitted to play an Intramural game if their name is not printed on the scorecard.
How and when can I cancel or reschedule a game?
You MUST provide 48 hours' notice to cancel. You can request a cancellation by contacting the Intramural Office by email at iplayim@uoguelph.ca. Due to COVID-19 we will temporarily not be accepting any rescheduling requests.
Please note, if you are cancelling a Sunday game, you must notify the Intramural office by Friday at noon.
Teams may cancel their first games without penalty to their bond. If you cannot attend your first game and you do not cancel your first game, you will lose your ENTIRE bond and you will be REMOVED from the league.
CANCELLATION PROCEDURE:
The following steps need to be completed at least 48 HOURS prior to the scheduled game:
1. The team with the cancellation request MUST e-mail iplayim@uoguelph.ca with the request.
2. IM staff will confirm the cancellation with BOTH teams.
3. SUNDAY games must be cancelled by FRIDAY at 2:00 pm.
Do I need to be a student to play Intramurals?
EACH PARTICIPANT MUST HAVE PAID THE ATHLETIC'S FEE by being either a full-time student, or part-time undergraduate student, or purchasing a monthly base Athletics membership for the current semester.
Email Us a Question
How do I link directly to CONNECT
To link directly to CONNECT and login into your account, go to Useful Links on the bottom of the Fitness & Recreation home page. Go directly to Connect to login.
How do I get wifi?
Users must first sync their Central Login Password by using the password change tool, and can then use the JoinNow tool to configure the wireless network for their devices. Visit Computing & Communication Services for more details, https://www.uoguelph.ca/ccs/securewireless
HOW DO I REGISTER MY TEAM TO PLAY INTRAMURALS?
There are TWO steps when registering an Intramural Team.
FIRST – Team captains must pay for the Intramural team on uoguelph.ca/connect or in person at Client Services in the Athletics Centre. Team captains pay the bond for the team ($250 for Ice Hockey and $75 for all other sports). The bond is returned in full if no fines are applied to the account. A team can be fined if they default a game, forget to submit their roster on time, player misconduct, or lost or damaged jersey/equipment.
SECOND – Team captains must register their team roster at IM Leagues (opens in new tab). View FAQ "How do I create a roster and apply players to my roster?" for instructions.
How do I register as an individual to play intramurals?
There are TWO steps when registering as an Individual/Free Agent.
FIRST – You must pay to register on connect (uoguelph.ca/connect) or in person at Client Services in the Athletics Centre. The fee to play as a free agent is $20 for Ice Hockey and $10 for all other sports.
SECOND – You must log on to IM Leagues (imleagues.com/Guelph) and create an account. The Intramural Office can then add you to the X's/Free Agent team you signed up for in Connect. All free agent teams are made up of individual players and the teams have an X in front of the team name (e.g. X-Lightning).
How can I add myself to a roster?
Once your captains has created a team on IM leagues, you can sign in and join the team. Our online video slideshow explains how to create your IM Leagues account and how you join a roster on IM Leagues.
To join a Roster on IM Leagues:
You must go to imleagues.com/Guelph
Once on IM Leagues click "Create Account"
Once logged in click on "University of Guelph" at the top left corner
On the homepage, select your sport from the list (e.g. click on "Dodgeball Competitive League")
When you get to the league page you will click "Register/Signup" and then click "Join a Team"
You will have to sign your waiver and request to be added to the team
If your captain has chosen to make the team "CLOSED" they will have to verify your name prior to you being added to the team roster
What is the fine for defaulting or missing a game?
First Game Default - Ice Hockey ($250.00), Other Sports ($75.00) *and removal from league
Regular Season/Playoff Game Default - Ice Hockey ($125.00), Other Sports ($37.50)
These are some other fines that may occur:
Failure to submit roster on time to IM leagues ($15.00)
Misconduct and/or Fighting ($50.00)
Lost and/or Damaged Equipment and/or Jersey ($50.00)
What happens if our score is recorded incorrectly?
Unfortunately this happens from time to time. It is best to contact the Intramural Office as soon as you notice an error. The Intramural Office can be contacted by email at iplayim@uoguelph.ca or by phone at 519-824-4120 ex. 56137. The Intramural Office will look into the error and make amendments online when necessary.
HAVE I ACCEPTED THE WAIVER?
When you register or join a team on IM Leagues, you will have accepted the waiver.
WHO IS ELIGIBLE FOR PLAYOFFS?
Every division in our competitive brackets have playoffs.
Teams - Every team in the league makes playoffs REGARDLESS of standing in the regular season.
Individual Players - Players must participate in at least ONE THIRD (2 OF 6) of their team's regular season games to be eligible to compete in the playoffs (special eligibility rules apply for Ice Hockey leagues).
What happens if I'm not on the scorecard?
Come to the IM Office and we will sort out the reason why you are not appearing on the scorecard. If you are eligible to play for the team, you will be given an OK TO PLAY slip.
What time do I play? Where do I play? Who am I playing?
Team schedules will be posted on the IMLeagues website. These schedules will be posted shortly after late registration closes in the Fall and Winter semester. These schedules will tell you where your games will be played, who you will be playing, and the time of your game.
Find your league schedule by going to the University of Guelph homepage (Go to the Homepage by clicking "University of Guelph" in the top left hand corner of the screen)
Click on your league from the list (e.g. (M) Competitive A Basketball).
Once on the League page you will be able to view upcoming games, schedules, and statistics
What is protest and appeals?
The Protests and Appeals (P&A) committee deals with suspensions, ineligible players and any other misconducts or incidents that occur during intramural games. Meetings are held EVERY TUESDAY AT 6:30pm IN THE IM OFFICE. You MUST attend a P&A before you are allowed to play again.
Can I play on multiple intramural teams?
Yes, you can play on more than one intramural team if your teams are playing in a variety of sports. You can play on more than one team in the same sport, however, only on one co-ed team and one male or female team. You cannot play for 2 co-ed, 2 male, or 2 female teams of different divisions (A,B,C). Ice hockey is the exception. You can only play on ONE Ice Hockey Team, regardless of division or gender.
How do I create a roster and add players to my roster?
Once your team is paid in Connect, each player will need to create an account in IM Leagues. If players already have an account from a previous year they need to login and join the team. Our online video slideshow explains how to create your roster on IM Leagues and how your teammates can join your roster on IM Leagues.
To create a new Roster on IM Leagues:
You must go to imleagues.com/Guelph
Once on IM Leagues click "Create Account"
Once logged in click on "University of Guelph" at the top left corner
On the homepage, select your sport from the list (e.g. click on "Dodgeball Competitive League")
Then select the Register/Signup button and click "Create a Team"
You will have to watch the captain's video, pass the captain's quiz, and sign the waiver before you are able to sign up for your team