Disc Golf
Before booking your Rec time slot,
ensure you have read the below Rec Policies & Protocols
that specifically apply to Disc Golf.
The Provincial Government has introduced a new COVID-19 framework. To find out how this will affect you and our programs, please click here to visit gryphons.ca/What's New. Everyone is required to complete the U of G COVID-19 Screening Form prior to every visit > uoguel.ph/COVID19screening
Recreation available to U of G Students & Athletics Members ONLY.

You are an Athletics Member if you are a registered full or part-time undergraduate or a full-time graduate student of the University of Guelph (Athletics Base Membership paid within your academic fees) or if you have purchased an Athletics Base Membership.

Daily Access Pass currently not available - Monthly Base Membership is great option
View weekly Recreation Calendar, hover over the Sports & Clubs menu item above, then click on the Recreation column heading.
Disc Golf
The course is located in the beautiful University of Guelph Arboretum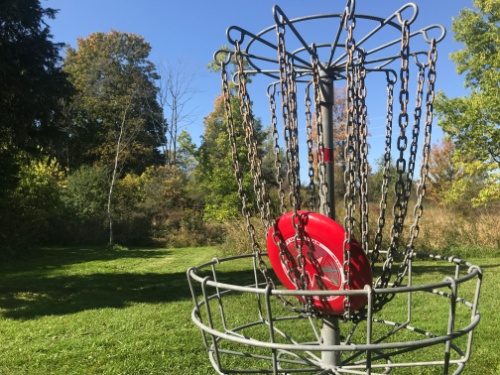 The 9 Hole Magnolia Disc Golf course is located in the Maple Collection in the Arboretum (Download the Course Map), across from the R.J Hilton Centre off of College Avenue. This is a public use course but tee times must be pre-booked through the Arboretum.
COVID-19 Policies
All tee times must be reserved in advance for the purpose of contact tracing
Clients are expected to cancel reservations on their own and can do so without penalty up to 1 hour prior to the reserved time
Everyone must check-in at Client Services upon arrival to pick up equipment
Clients who make a reservation and continuously do not show will have their membership temporarily suspended
Non-members will be denied access to reserved time slots
Limit of 1 time slot per activity, per day. If space permits, clients may request to book a consecutive time slot by checking with staff at that time
Disc Golf COVID-19 Protocols
Everyone is required to complete the U of G COVID-19 Screening Form prior to every visit using the QR code or by visiting > uoguel.ph/COVID19screening or access to the facility will be denied
If you experience any symptoms on the screening form or do not feel well, please stay home
Everyone must obey physical distancing guidelines while in the facility & face coverings must be worn
After reserving your Tee Time online, Rec users will enter through the Larry Pearson entrance
Everyone must check-in at Client Services upon arrival in order to rent the Disc Golf set for $4
During play you must keep a physical distance of 6 feet
Bring hand sanitizer with you
Maximum 4 players per group
Do not approach the tee until it is clear of others
Do not touch the equipment of others
Only one disc in the basket at a time
Retrieve disc out of basket only touching your disc
Any trash carried in must be carried out
No congregating in the parking lot before or after play
Do not damage any plants, trees, or equipment
Change rooms currently closed
Tee Time: Book NOW
Equipment Rental
Disc Golf sets available to rent at Client Services in the Athletics Centre - cost $4 per set

All rental equipment must be returned 30 minutes prior to the building closure
Lost/damaged equipment fees applicable
You are an Athletics Member if you are a registered full or part-time undergraduate or a full-time graduate student of the University of Guelph (Athletics Base Membership paid within your academic fees) or have purchased an Athletics Base Membership.
Not a member yet? Visit Membership Services