Group Shot
This team was ranked top 5 in the country in the 2019/2020 season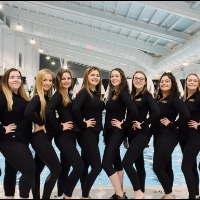 2020 Experienced Team
This team was ranked top 5 in the country in the 2019/2020 season
Team Highlight from McGill Inv...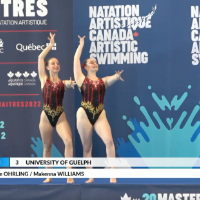 National Medalists
At Canadian Championships our Senior Free Duet made history as the only university team amongst the top competitors in the country, placing 3rd.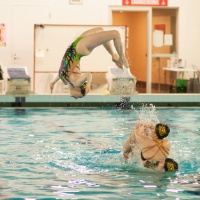 Nationals 2022 Gala
Our Expert Red team gave a dazzling performance at this amazing year-end event in front of friends and family.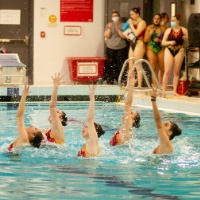 Highlight Reel
This snapshot showcases our Novice Red team at the Nationals 2022 Gala. This team truly enchanted the crowd and included swimmers who first learned Artistic Swimming in university!
2021-2022 Club Members
Swimmers pose for a club photo in the practice room of the Athletic Centre (COVID safe of course!)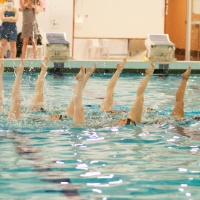 Synchro Spirit
Swimmers from Expert do a classic Artistic Swimming move – the Ballet Leg – showcasing their synchronization, extension, flexibility, and strength.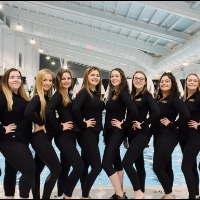 2020 Experienced Team
Team Highlight from McGill Inv...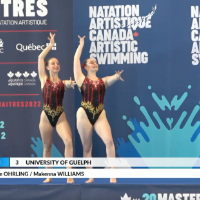 National Medalists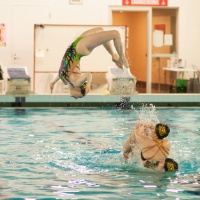 Nationals 2022 Gala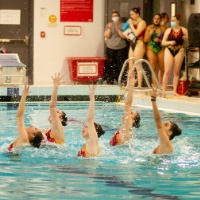 Highlight Reel
2021-2022 Club Members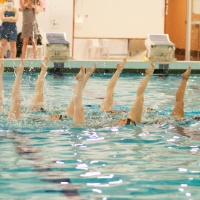 Synchro Spirit
Description
The Artistic Swimming Club (formerly known as Synchronized Swimming) accommodates both competitive and novice-level swimmers who wish to compete at the university level in 2 or 3 annual competitions.
Experienced artistic swimmers have the opportunity to continue a sport they love at a fun and manageable level. Novice team members have the opportunity to learn a new sport right from the basics.
We practice hard but also have loads of fun within our supportive and inclusive community! See below for additional information about practices, contact information, social media links and more!
Rosters
Coaches:
Adele Arpino
Jessie Cait
Katherine Frost
Emily Vance
Joelle Zavitz
Experienced Red Team:
Mari Burigana
Maia Dekort
Maria Gheta
Kayla Lum
Allison Major
Grace Ohrling
Ellie Ward
Teghyn Gurney
Experienced Gold Team:
Cassidy Ball
Shauna Dworatzek
Mia Lamarino
Rachel Lall
Mick Mantler
Jamie McBride
Eva Pala
Grace Tinning
Novice Team:
Adina Borenstein
Sydney Dam
Emily Diab
Alyssa Kwaitkowski
Bridget Marsland
Madison Radakovic Emilie Vecera
Maranda McCarthy
Our Executive Team
President and Executive Director:

Grace Ohrling

Program Coordinator:

Teghyn Gurney

Marketing & Finance Coordinator and Safety Officier:

Rachel Lall

Novice Coordinator:

Adina Borenstein

Travel & Events Coordinator:

Maranda McCarthy

Club Photographer:

Ryleigh Baker
Fees
Fees are typically $500 for the whole season (September - March). This includes pool time, league registration fee, club fee, swim cap, and uniform shirt. Additional items like competition suits, travel, and hotel fees may be included in season fees or be separate if they are optional, so fees are subject to change depending on the season.
*All club memberships require a prerequisite base athletics membership and to pay an athletic fee. Currently enrolled, on-campus students already have this prerequisite membership during the Fall and Winter semesters. For all other community participants and students attending classes in the summer months, a monthly base membership is required for purchase before enrolling into a club*
Practice time/tryouts
Everyone at any skill level in artistic swimming is welcome to join! No artistic swimming experience is necessary, however, interested members do need to have basic swimming skills. Team placements will occur at the beginning of the season.
Practice begins in September each year. Our 2023-2024 season practice times are as follows:
Tuesdays: Gold Pool 8:00pm - 10:30pm
Wednesdays: Dryland 8:00pm - 9:00pm, Red Pool 9:15pm - 11:15pm
Thursdays: Dryland: 8:30pm - 9:30pm
Sunday: Dryland 7:00pm - 8:00pm, Red Pool 8:00pm - 10:00pm
Social media/contact
Links
FAQ
Q: Do I need any experience to join?
A: No artistic swimming experience is necessary to be a member of the club! Our Expert and Novice streams provide a space for swimmers of all abilities to learn, compete, and have fun! Any university student hoping to join should have basic swimming ability, however, all artistic swimming skills can be learned with no experience.
Q: Are there tryouts to join?
A: No, there is a place in the club for everyone wanting to join! Team placements will occur at the beginning of the season and ensure that everyone is on a team that suits their ability and level of competition.
Q: What competitions do you compete in?
A: We compete in 3 CUASL competitions in a regular season: Invitationals, Easterns, and Nationals.
Q: Can I do extra routines? What are extra routines?
A: Extra routines (solos, duets, trios) are typically organized by the swimmers in the routine. Anyone is welcome to create an extra routine, and members can swim an extra routine even if they are not participating in a team routine.
What Participants Have Said...
"I've been a part of the Artistic Swim Club throughout my undergraduate degree. It has been a great way to stay active and make friends while continuing to train and compete in the sport I grew up loving. I'm so thankful for my artistic swim family and have loved to see it grow over years." - Grace Ohrling
—
Guelph Gryphons Athletics Centre
50 East Ring Road, Guelph, ON, N1G 4Z8