Whats New News
«

Back to listings
International Women's Day - Lauren Burleigh
Lauren Burleigh, she/her, Athletics EDI Committee, Fourth Year, Bio-Medical Sciences
Lauren Burleigh, is a fourth year Bio-Medical Sciences student at the University of Guelph. In her youth she was participated in competitive trampoline, swimming, and volleyball. And now at U of G helps to guide several efforts on the Athletics and Recreation's Equity, Diversity, and Inclusion (EDI) committee.
As an individual with physical, hearing, learning and psychiatric disabilities, she understands the critical importance of accessibility and is passionate about improving spaces for disabled people, "I've noticed that a lot of places are not accessible, and I wanted to have a voice in making the Athletics Centre more accessible for disabled people because it's often a group that's left out from the conversation."
Lauren and her service dog, Merlin are very familiar with the Athletics Centre. In 2019 she worked as a lifeguard in her first year and now also works at the client service desk. Lauren is a member of the EDI committee, the accessibility, inclusive environments, and programming sub-committee and chairs the training and education sub-committee for EDI.
Lauren's input has helped the department push through many EDI initiatives from idea to implementation such as women's' programming, and monthly staff EDI training sessions.
"I have seen a lot of positive and impactful change in the Athletics Centre since my first year. It's also nice because the people in the positions where it matters, you can see their desire for change. Everyone on the committees I work with are just as excited and passionate as me to make these changes together."
Question: What does it mean to be a Gryphon student leader?
Being a Gryphon student leader means respecting and caring for everyone you interact with. Being a student leader requires you to engage in difficult conversations so you can do better and be better in the future. It means you show up each day as you are and strive to offer a more welcoming place for everyone who steps on campus.

Question: Why is girls' participation in sports so important?
Girls' participation in sports is pivotal for a multitude of reasons apart from the benefits of physical activity. Girls' participation in sports encourages physical activity in childhood but also sets the foundation for physical literacy as adults. Additionally, sports participation teaches girls to trust in themselves and their abilities. Sports can also support girls to learn that their worth is not determined by their achievements, along with many life skills, such as remaining calm under pressure, time management, and problem-solving abilities. Sports can have a massively positive impact on girls, particularly when encouraged and reinforced.
Question: What do you think helped you get here? How can we mentor young girls to dream big?
Growing up, the question wasn't IF you would be active but how you would be active. Along with encouraging activity, I was empowered to believe in myself so much that whenever someone doubted me, I would say, "watch me."
A large part of encouraging young girls to dream big is never questioning or doubting their dreams and instead, asking how I can help them get there. Girls also need to see women role models achieving those same big dreams they have so they can truly see themselves in their dream. Society frequently tells girls they're not strong enough, take up too much space, or need to be realistic with their goals. Unfortunately, society won't change overnight, so as mentors to young girls, the support and belief in them need to be 10x louder than the doubts.
Question: What ways do you hope your work on the EDI committee could open opportunities from women in sport?
I hope my work on the EDI committee can empower and support women to participate in sports however they desire. I hope that this work provides support to make playing sports more accessible to multi-marginalized women. Increasing access would look like increased financial support opportunities and changing policies and procedures limiting women's sports access. Additionally, I want to create more opportunities for girls in sports through camps and recreational programming, so we see more women in sports in the future.
Question: What's next for you?
I plan to finish my degree while continuing my EDI work within the department. After I graduate, I hope to continue my work in EDI to increase access for disabled people to the environments around them. I want to work to change policies, procedures and beliefs that limit access to services for marginalized communities. Additionally, I want to expand my knowledge of dog training to support disabled folks who need a service dog.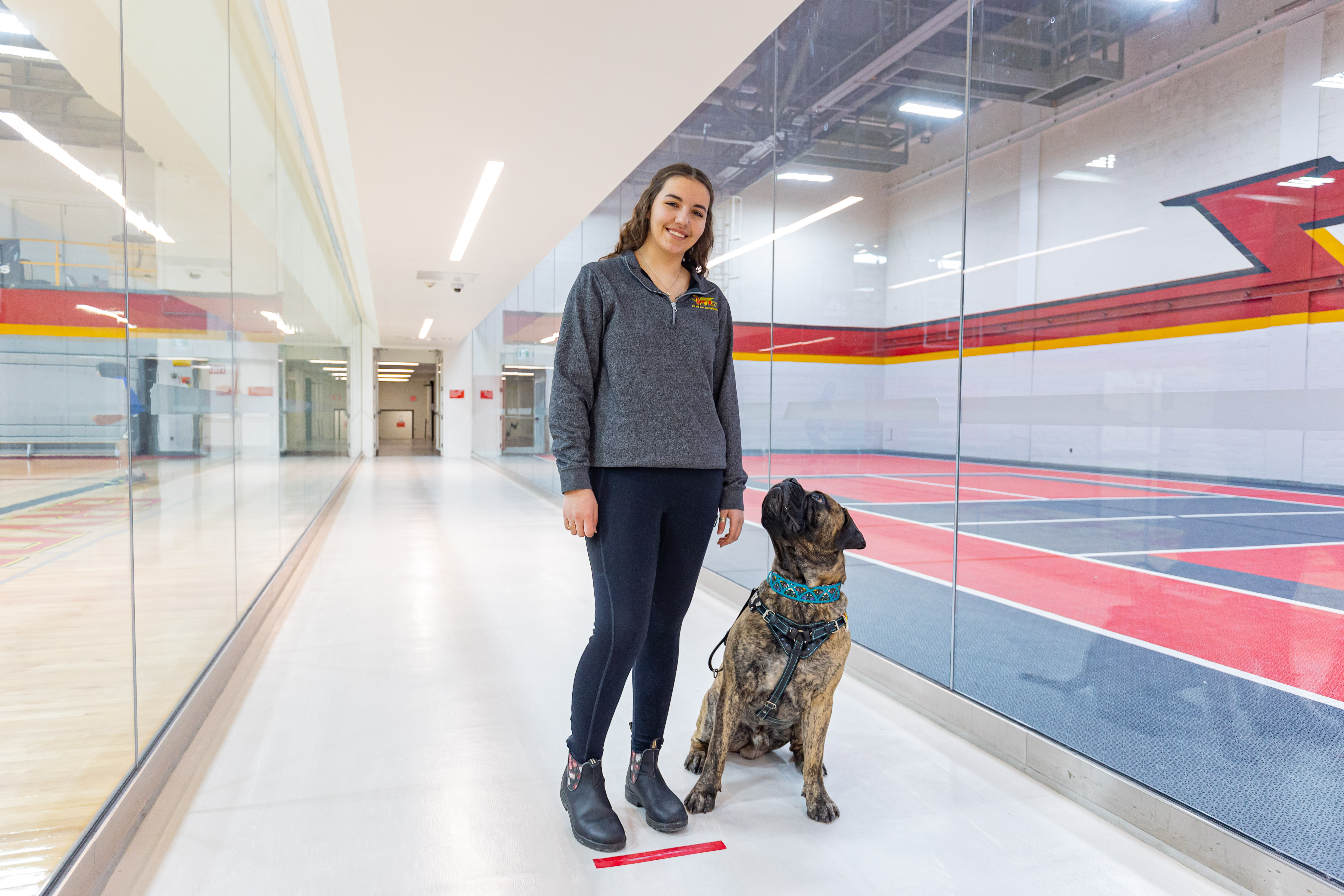 Comments are closed.