Whats New News
«

Back to listings
New & Improved NRG PLUS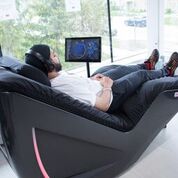 The NRG PLUS Pass not only gives you preferred entrance to NRG classes (some restrictions apply), but now it also gives you access to our NEW Hydro Massage Lounger located in the Fitness Centre! You will get one 10-minute massage per day, to release tension from head to toe. For more details, visit the NRG Pass page.
You can upgrade your current NRG Pass to the NRG PLUS Pass for $30 at Client Services. If you are a monthly user, $30 flat rate upgrade fee for the semester will apply. Visit Memberships to purchase now.
For more information, please visit the Fitness Centre desk. If you would like to book a free trial on the bed before purchasing, please contact Lynne Skilton Hayes X52670 to book a time.
Comments are closed.