Gryphon High Performance Training Half Day Camp | Ages 13-19
This half day camp for ages 13-19 is hosted by the University of Guelph Varsity Strength & Conditioning Coaches/staff who will take participants through a Movement Assessment and comprehensive program in order to master the basics of strength & conditioning.
Can't wait to see you next Summer 2024! Camp Registration will open mid February. If you're new to Gryphon Camps, check out last Summers Camp Calendar to get a general idea of similar programming we may offer. Summer 2023 Camps Calendar at a Glance
Sport Clinics details are posted regularly as sessions become available throughout the year. Click here for Youth Skills Clinics details.
If your desired Camp week is full, please join the waitlist and we will contact you if and when an opening is available.
High Performance Training
Sessions are primarily practical with some classroom sessions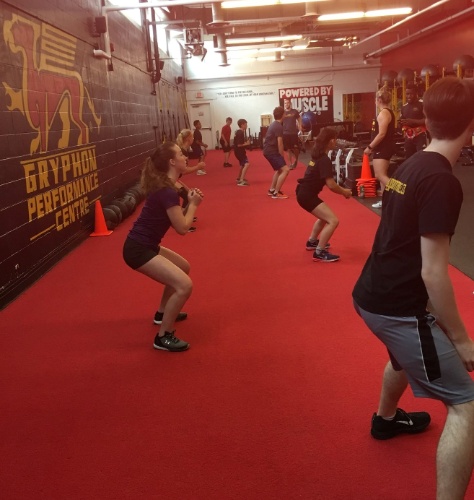 High Performance Training Half Day Camp | Ages 13-19
Are you a high-performance athlete that wants to learn how to maximize your physical ability? Come join us for this half day camp hosted by the University of Guelph Varsity Strength & Conditioning Coaches and staff to master the basics of strength & conditioning. Training program includes:
Individual Movement Assessment
Sessions primarily practical with some classroom sessions
Comprehensive program topics including: movement competency, strength, power, speed, agility & conditioning
Classroom sessions cover the why's behind training
Sessions also include topics such as nutrition and recovery
Guelph Gryphons Athletics Centre
50 East Ring Road, Guelph, ON, N1G 4Z8